As an employer led organisation NLBC aims to connect effectively with all the land based industries, to provide employers with a far greater opportunity to steer skills development for their sector. To stimulate more employer engagement with us, and our NLBC member specialist land based colleges and universities, on the morning of 15th November 2017 we are running an NLBC 'Connecting with Industry' event, at Defra, which will include:
Updates from NLBC on our strategy and progress to date.
Presentations from the following key speakers:

Tim Jackson: Vice Chair, NLBC (Principal Sparsholt College)
Geraint Richards – Arboriculture, Forestry & Horticulture Trailblazer Group
Richard Self – Chair IfA, Employer Panel Agriculture, Environment Animal Care
Michael Gove – Defra, Productivity and Skills

A Question and Answer session with key individuals on land based skills.
Information on how to join the permanent NLBC Council and Industry Skills Groups.
All our 30 member colleges and universities will be in attendance and we will be sending out invitations to land based industry organisations this month to engage with us all at this event. If your organisation is not invited, and you'd like to attend, please contact us at the email address below.
In all our industry engagement, where there are existing examples of employers engaging with and driving skills development, we will aim to link to and support those initiatives and forums. One example of this is the Forestry Skills Forum (FSF), formerly the Forestry Learning & Development Working Group, which contains representatives of a large number of notable forestry organisations (including Forestry Commission England, Royal Forestry Society, the Forest Schools Association and Confor), and has an agenda across careers, training and education. NLBC are now part of the FSF, which gives us a great opportunity to engage directly with those in the sector that care about skills development. It also gives the FSF a far greater opportunity, through NLBC, to directly steer qualifications development for Forestry. Other land based sectors have similar forums for skills and NLBC is connecting to them all.
The NLBC Industry Skills Groups, which are being launched now, are fully endorsed by the Agriculture & Horticulture Development Board (AHDB) and National Farmers Union (NFU) and the NFU Vice-President has made an excellent short film, advocating why people should join. Our groups provide a real opportunity for all those employed within the land based sector to directly input into skills, including the development of qualifications through our partner City & Guilds.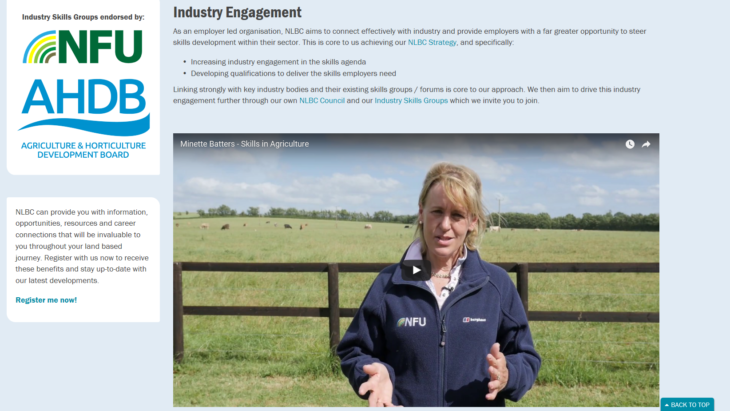 Anybody with experience in land based industries can apply to join our Industry Skills Group, and as a member, we will ask you for your views and ideas on skills development, from careers initiatives, right through to degree and higher apprenticeship programmes. Your feedback is crucial to ensure NLBC helps the sector meet the needs of today's employers.
Uniquely, our Industry Skills Groups will operate virtually and, although there may be occasions where we do ask to meet face-to-face, we will primarily engage with our members through video conferencing, teleconferences, webinars, email and their own password protected space on the NLBC website. This will allow us to make best use of members time and ensure they are consulted appropriately around the subjects and skills areas they want to engage on.
Our NLBC Industry Skills Groups will be larger forums than other existing sector skills initiatives and we aim that these forums can also use our groups as a sounding board. There will be an NLBC Industry Skills Group for each of the core sectors of land based, but we will also consult with all the groups on cross-cutting topics.
We believe the NLBC offers a tremendous opportunity for employers and industry to engage with and steer skills development for the sector and we encourage anyone who cares about the future skills needs of their sector to get involved. Please refer to the Industry Engagement page on the NLBC website for more details, and if you would be keen to learn more about the 'Connecting with Industry' event, our Industry Skills Groups, and/or joining the full NLBC Council, please contact us at enquiries@nlbc.uk