It's both an exciting and crucial time for technical education and skills development across the UK. The Department for Education (DfE) set down the guidelines for their new Technical Qualifications (T levels) in their Post-16 Skills Plan (July 2016), with far more detail being published in October in their 'Post-16 Technical Education Reforms, T levels Action Plan'.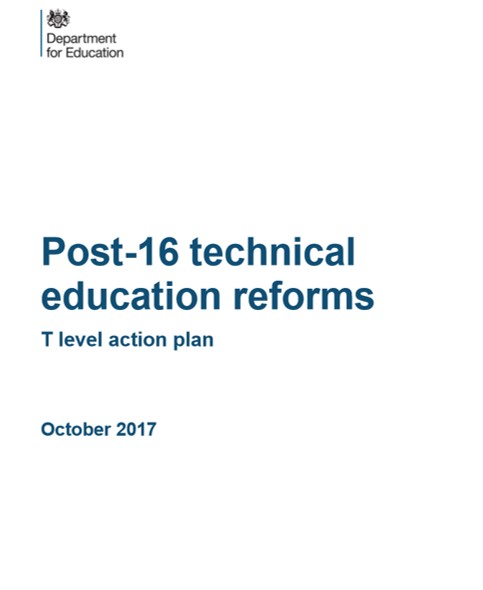 The DfE's ambition is that the new framework will "support young people and adults to secure a lifetime of sustained skilled employment and meet the needs of our growing and rapidly changing economy". T levels will sit alongside Apprenticeships within a reformed skills training system and, just as A levels are demanded by universities, in time the DfE want T levels to be demanded by employers for entry into skilled employment.
Crucially, the DfE are now driving to give more power to industry in the development process, and both apprenticeships and T levels will be based on the same set of standards designed by employers, providing a core of knowledge, skills and behaviours. Apprentices will then gain more specific work based experience to train them for a single occupation, whereas T level students will develop a wider range of relevant knowledge and be able to progress into wider employment, higher level apprenticeships, or higher-level study. Importantly, unlike existing Qualifications and Credit Framework (QCF) level 3 Certificates and Diplomas, all T level programmes must include a substantial work placement with an employer.
The timetable for rolling out the T levels across the different vocational routes has now been published, but our route of Agriculture, Environmental and Animal Care (i.e. land based) is not included in their first tranche to be developed. The DfE timetable (see image below) indicates that the date for the launch of T levels for our route will be 2022. Over the next 3 years our sector has a tremendous opportunity to develop industry led, fit-for-purpose qualifications and apprenticeships. To deliver this successfully, however, I believe it is critical that our sector collectively understands the wider technical education landscape, aligns accordingly, and fully grasps this opportunity!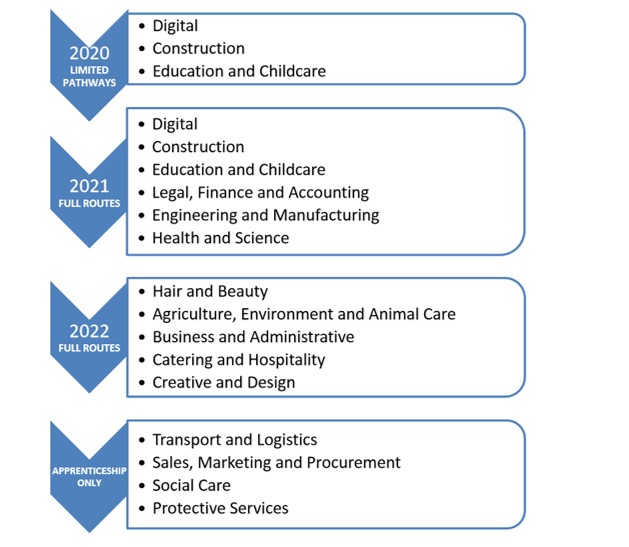 Our route of Agriculture, Environmental and Animal Care is by far the most diverse of any of the DfE's 15 skills routes, covering everything land based, ranging from farming to floristry, game keeping to landscaping, and zoo keeping to maintaining football pitches. With the DfE aiming for an overall reduction in the number of qualifications and standards available across all routes (and encouraging 'whole route solutions' especially at the higher skills levels), it is fundamental that our sector recognises this. There is a clear need to collaborate across our sector on the creation of qualifications and higher-level apprenticeship standards, which we can all use. We must also have those conversations with the other skills routes to ensure that any generic standards are fit-for-purpose in the land based sector. If we don't join-up those conversation now, the risk is that our sector may have to try and retro-fit standards developed by other vocations.
The changes to technical education are coming and our National Land Based College (NLBC) partner, City & Guilds, have seized this opportunity, interpreted DfE guidelines on Technical qualifications (August 2016) and over the last c.3 years have developed a suite of new Technical Qualifications across land based. A key priority for NLBC, since commencing operations in April 2016, has been to work closely with City & Guilds and staff from many of our member specialist land based colleges and universities, to complete the development of these new Technical Qualifications.
Details on the new City & Guilds Technicals are available from the NLBC website, where individual qualifications and subjects can be filtered, with links to the relevant City & Guilds website pages and course handbooks. NLBC and City & Guilds are also jointly running a series of webinars to inform people about our Technical qualifications and the first one is available here. Providers can also sign up for the NLBC Newsletter to keep informed.
The City & Guilds technical qualifications may need to evolve in future to fully align with the final DfE T levels guidelines for our route, but they are certainly in line with current thinking and raise the bar right now for land based technical education. It is important in this 'employer led' environment that our industry understands these changes, champions these new qualifications, and looks for graduates who have attained them.
In this great period of change within technical education there is much uncertainty, within both industry and providers, around the existing qualifications and those for the future. With the huge breadth of subjects within our skills route and the huge number of stakeholders who want to input into the development of qualifications and standards, we are certain there is a need for an organisation, such as NLBC, to coordinate and facilitate their development.
We believe we must also benchmark against what other UK sectors and other countries are doing to ensure their skills are developed appropriately. The UK food sector has the National Skills Academy for Food and Drink, set up over 10 years ago, and internationally, the Primary Industry Training Organisation in New Zealand is a fantastic example of an organisation driving skills development for the whole land based sector in a country. Primary ITO is industry driven and the New Zealand Government fund the organisation by $33m (c.£17m) per year, to develop skills for their sector. Perhaps this correlates to the success of their AgriFood sector post the removal of subsidies and is something the UK can learn from?