Equine Care & Management
Course list
Level 1 Diploma in Land-Based Horse Care
Level 2 Technical Certificate in Horse Care
Level 3 Advanced Technical Certificate/Diploma/Extended Diploma in Horse Management
Level 2 Apprenticeship in Equine
Level 3 Advanced Apprenticeship in Equine
Foundation Degree in Equestrian Performance and Coaching
BA (Hons) Degree in Equestrian Performance and Coaching (Top-up)
Course Levels
1
2
3
4
5
6
Equine Care & Management at Kirkley Hall Campus
Our Equine courses prepare you for a range of exciting career prospects working in the equine industry. The fantastic facilities at our equestrian centre include a 25 horse stable yard, eight horse DIY livery yard for student horses, two 60m x 30moutdoor all weather arenas and a 50m x 25m indoor riding arena. Other facilities include a horse walker, weighbridge, solarium, gait analysis facilities and indoor demonstrating barns and a cross country course.
Our equestrian centre runs a British Eventing affiliated one day event each year, which attracts hundreds of entries. In addition monthly affiliated dressage competitions as well as regular unaffiliated competitions will all give you experience in organising, planning and competing in prestigious equine events.
Workplace preparation is a vital part of our courses with opportunities for work experience and work-related activities.
Courses have clear progression routes from Level 1 through to BA (Hons) Degree.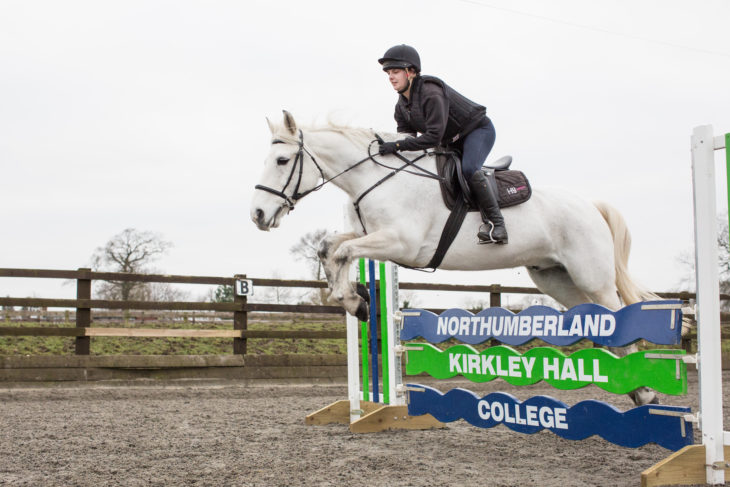 Kirkley Hall Campus
College
Telephone
01670 841 229
Website
Email
Address
Ponteland,
Northumberland,
NE20 0AQ